Your company or organisation's logo is an important symbol to potential customers. Its colourful presence on a flag or banner instantly signals your location and corporate identity, ensuring a high level of public awareness for your business.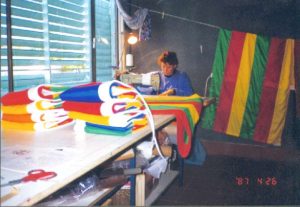 Since 1981, Brad Palmer has been supplying and manufacturing quality flags at realistic prices. We are proud of our excellent reputation, built on dependable service and follow-up maintenance if required.
All our flags are produced from 100% Woven Polyester flag bunting for durability and colour fastness. Screen printed or traditional hand-sewn. This is the cloth we use as the base of the flag, designs are then sewn (appliqued), or printed on to the base cloth. The alternative cloth is a 200 denier solarmax nylon. This is again popular for its vibrant range of colours and shiny appearance.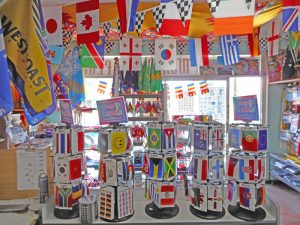 We also print on a knitted lightweight polyester with a shiny look and feel. Trilobal is a nice alternative for large runs and budget restraints.
We make all nation flags of course, usually to a ratio 2:1 format for the local market, but national flags to the correct proportions is no problem.
Banners using a vinyl pvc material with computer generated adhesive. Text and graphics are popular promotional items, again a large range of colours and sizes to choose.
Indoor timber flagpoles and all weather powder coated aluminium poles from 6 to 9 to 12 meters installed. All finished with yacht quality stainless and nylon fittings for maintenance free use. View flagpole drawing.